Lifetime Job Search Guidance for Gaining Employment Teaching English Abroad
Job Search Guidance from International TEFL Academy
As you know, it is hard enough to find a good job these days in your own community, much less in a foreign country overseas. We understand how challenging it can be to master the ins and outs of job markets for teaching English abroad in countries such as Korea, Spain, or Argentina. That is why International TEFL Academy provides comprehensive, lifetime job search guidance to all of our students and graduates, encompassing all of the expertise you will need to navigate job markets anywhere in world. Whether you want to teach English abroad in Santiago, Seoul or St. Petersburg, we will show you how you can take advantage of job opportunities that match your specific goals and qualifications.
ITA trains over 2,000 students a year, all our graduates who search find employment find an abundance of jobs around the world. Get to know some of our graduates on our alumni page, watch the videos, read their stories, articles, blogs, testimonials, and learn about their experiences.
Note: International TEFL Academy is a TEFL Certification school and only provides assistance to our graduates for finding jobs teaching English abroad.
Basics about the hiring process in different job markets around the world for teaching English abroad:
# 1: There are typically 250,000 English teaching positions each year around the world.
# 2: Each year, approximately 50% of English instructors tend to leave after their contract is over, thus creating approximately 100,000 new teaching positions. The English teaching market is a revolving door of teachers constantly coming and going.
#3: Every country has it's own hiring season. Knowing the cycles, seasons, procedures and requirements in each country is key to finding thousands of English teaching openings.

Do I get to pick a certain country, or am I just sent to one?

Based on your own goals and qualification, you decide where you want to teach! Some TEFL / TESOL graduates have their heart set on living and teaching in Madrid, Buenos Aires or Shanghai; others are willing to experience any destination that is new and different. You may teach for one year in Spain, then one year in Italy, or one year in China and another year in Thailand. Many newly certified teachers spend a year teaching in Asia to save money before moving on to Europe or Latin America. The opportunities are endless – it's all up to you to make the effort, follow our guidance and pursue your dreams.
Hiring Seasons
Many countries have specific hiring seasons in which they seek to fill vacant teaching positions. While openings for jobs may become available at any time of year, following these hiring cycles and interviewing in advance for a position is critical in your success for finding a great job abroad.

Below are the hiring seasons for private language schools in various regions of the world:
Europe: Main: September/October Secondary: January
Central America: Main: June/July Secondary: January/February

South America: Main: February/March Secondary: July/August
Asia: Year Round
Middle East: Year Round and May-August

Finding English teaching jobs overseas:
How do I actually get a job teaching overseas?
There are numerous ways to find jobs abroad, and as part of your International TEFL Academy job search guidance you will be shown how to use each one.
Job Boards – There are nearly 100 ESL online job boards listing tens of thousands of teaching opportunities around the world. Some job boards are general in nature and list jobs all over the world; others are country or region specific. In some cases, you may apply directly through the website, while others may offer contact information. As a student and graduate of International TEFL Academy, you will be provided with a comprehensive list of these websites.
Contacting Schools Directly – International

TEFL Academy provides you with an international school directory with contact information for tens of thousands educational institutions around the globe. In some cases, International TEFL Academy can also provide you with specific references and contacts for schools. R

eaching out to specific schools makes sense if you are looking to work in a very specific region or city. It's often as simple as calling a school while in town and asking for an interview that day.
Placement Agencies & Recruiters – In certain countries and regions, like Asia and the Arab Gulf countries, a large percentage of teachers are hired through recruiters and placement agencies. International TEFL Academy can refer you to the most reputable agencies.
Networking and Word of Mouth – Contacting other English teachers can be a great way to learn about schools and job opportunities, particularly if you are already on the ground in the city or region where you want to teach.

With over 2,000 new ITA graduates a year you have access to a tight network of your peers who can give you advice on the jobs at their employer and in their personal network teaching abroad. A communication networks has been set up by each country in the ITA alumni Facebook group which can be viewed here.


Interviewing for teaching jobs overseas


1) Interviewing in advance from your home country:
On average, for advance interviews you should allow for two to four months (possibly longer in Japan) from the beginning of the interview process to the start date of your job. This procedure is standard for schools in the Arab Gulf countries, China, South Korea, Taiwan, Thailand, Indonesia, Central and Eastern Europe, and some Latin American countries. Applying for such jobs enables you to pursue multiple opportunities in multiple countries, and you will typically have a job lined up prior to your departure overseas.
To learn more, read Where will schools hire me in advance to teach English abroad?
2) Face-to-face interviews abroad:
Schools in many countries, particularly in Western Europe and much of Latin America, will require job applicants to come to their school in-person and interview face-to-face during major hiring seasons. This stems from the philosophy that evaluating potential teachers is best done through an interview in-person. Often the local applicant pool is sufficient to the point that schools feel no need to interview potential teachers long distance. Also, in many cases, schools may not have the resources to engage in global recruiting. In most cases, you will begin teaching almost immediately after your interview, so you should not plan on returning to your home country between your interview and your work start date.
Expect an in-person interview prior to a contract start date if you want to teach in any of the following locations:
Western Europe

Some schools in Eastern Europe

Most schools in Latin American countries

Many schools in Vietnam, Thailand and Indonesia.
Again, the country chart that you can request will answer all your questions and act as a blueprint in your selection process.
3) Face-to-Face Interviews prior to going abroad:
In-person interviews in the applicant's home country are common for jobs in Japan and are commonly conducted in major cities in the US, UK, Canada and Australia. A teaching demonstration may be incorporated into the interview process.
PLEASE NOTE: International TEFL Academy does not assign placements and you will interview for positions yourself. This means that you are in full control of who speak with and which job offer you accept. While it may make you feel nervous not to have a job "set up", it is best to have full control of the job, school, location and environment that will suit your needs.

How does International TEFL Academy assist with your job search?

We will help you every step of the way and train you how to find and pick the right job for your needs


Personal guidance from an experienced Job Search Advisor: Our expert Job Search Advisors are available to speak with you and correspond by email to address all of your questions and to assist you with every aspect of your job search. From writing your resume/CV and cover letter, coaching you on the interview process in different markets, to helping you assess which destinations might be the best fit for you, we are here to help!



Detailed video webinars on the job process: We provide live and taped webinar workshops on: the process of resume/cover letter & interviewing, continent specific talks for job hiring processes in Europe, Asia, Latin America, the Middle east.


ESL job search manual: All of our graduates receive a 300 page manual containing all relevant information for major job markets around the world, including hiring seasons, academic standards, and the interview process for teaching English abroad. Templates for successful resumes and cover letters are also included. This manual incorporates extensive listings of online resources, including nearly 100 ESL international job boards.


ESL worldwide school directory: We will send you a directory of over 20,000 schools worldwide that you can contact directly regarding employment opportunities.


Referrals to preferred recruiters, placement agencies and language schools: International TEFL Academy enjoys a strong relationship with schools, recruiters and placement agencies throughout the world.


Job interview assistance for International TEFL / TESOL course participants: For students that take our four-week TEFL / TESOL course at an international location, the site director can arrange interviews or provide local contacts for your job search both during and after the training course.



PLEASE NOTE: We do not guarantee jobs, as you must qualify and interview for positions yourself; however if you follow our guidance and use the extensive resources we provide you, there is no reason why you should not be able to find a job overseas. We are committed to our graduates' success, and you will never be alone with our guidance and assistance.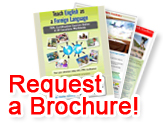 Contact International TEFL Academy today to speak with an advisor to find out about our online course, multiple on-site TEFL classes or request a brochure to learn about TEFL training courses and a comparison of the most popular countries to teach English.
Can I start a job search and interview immediately?
Yes! You do not need to complete your TEFL course to begin your job search and interview process for teaching English abroad. Students can start contacting and interviewing with schools immediately after registering for an International TEFL Academy course. Expert job search advisors in our Student Services Department will provide you with help. If you are looking to work in Europe or Latin America, timing your applications and interviews is critical. Schools in these regions will typically interview over the phone two to three months prior to the hiring period.

Those who take our online course may begin the interview process during the class. Those enrolled in an international TEFL / TESOL course may participate in advance interviews with schools, or contact schools during or immediately after the course.
How big is the market for English teachers around the world?
More than 500 million (some estimates approach 1 billion) non-native English speakers take some form of English class each year, including more than 100 million in China alone.

An estimated 250,000 English speakers work abroad as English teachers in more than 40,000 schools and language institutes around the world.

Eighty percent of English teachers in non-native English speaking countries – particularly in public schools – are not native English speakers themselves because there are simply not enough native English speaking teachers to meet the demand.

In each major European city like Prague, Madrid and Milan, approximately 3,000 – 5,000 English teachers are working at any given time; each of these cities host 100-250 private language institutes with each school typically employing between 5-20 teachers at a time. These numbers typically double in major Asian cities like Tokyo and Shanghai.

An estimated 20,000 native English speakers work as English teachers each year in Seoul, Korea alone.
Where can I Teach English Abroad?
Each year hundreds of thousands of Americans, Brits, Canadians, New Zealanders, and Australians, in addition to thousands of fluent non-native speakers, can be found teaching English in nearly every major city across the globe. A native English speaker with a four-year degree and a TEFL/TESOL Certification from International TEFL Academy can find opportunities in as many as 100 countries around the world, in Europe, Asia, and the Middle East, as well as South and Central America and North Africa.

Even without a four-year degree, a native English speaker with a TEFL/TESOL Certification from International TEFL Academy can realistically find exciting opportunities in dozens of countries around the world including Spain, Thailand, Russia, China, Brazil and many nations in Latin America and Eastern Europe. Non-native speakers who are fluent both in written and spoken English can also find opportunities in a wide variety of countries, particularly E.U. citizens looking to work within Europe, and those who wish to teach in their home country.

Please request our country chart and read the country profiles on our website to learn more about teaching in particular countries.
Working in Asia: Combining an enormous population, a deep-rooted commitment to education and widespread economic prosperity, Asia is by far the largest market on the globe for English language instruction. Nearly half of all English teaching opportunities can be found here as tens of thousands of teachers are employed each year in Japan, China, Taiwan, and South Korea. In addition, newly ascendant Southeast Asian "Economic Tigers" like Thailand, Vietnam, Indonesia and Malaysia represent some of the fastest growing job markets on Earth.
Steeped in history, deep-rooted cultures and exquisite natural beauty, Asia also offers some of the most lucrative opportunities in the world as a typical native-speaking English teacher with a TEFL/TESOL Certification from International TEFL Academy can expect to save 30%-50% of their salary after expenses.
Some points about teaching English in Asia:
In South Korea, English teachers typically can save between $10,000 and $15,000 a year after expenses, while in Japan, Taiwan and Vietnam, savings often range from $5,000 to $8,000 annually. You can also save a substantial amount of your salary in many Southeast Asian countries like Thailand and Cambodia, which offer alluring combinations of culture, cuisine, history and natural beauty.


A four-year degree is typically required (though not always in Thailand and China, or in developing countries like Cambodia), and teachers from native English speaking countries are strongly preferred.


Most positions in developed Asian countries like Japan, Korea, Taiwan, and China, are obtained by interviewing in advance from your home country, so most teachers have a job lined up before departing for the region.

Asia offers more opportunities to teach children than any other region in the world.
Working in Europe: The English teaching market in Europe has always been strong, but with the economic and cultural integration brought on by the emergence of the European Union, the use of English as a common language of culture and commerce has increased several times over, and with it, the demand for certified English teachers. Job markets are also booming in Central and Eastern Europe where countries like the Czech Republic, Poland, Russia, and Hungary (to name just a few), are still working to reintegrate with the rest of world after decades behind the Iron Curtain, and have made learning English a top priority for students, workers and business professionals.
Some points about teaching English in Europe:
Many jobs entail 10 to 12 month contracts. September, October and January are busy hiring periods for most countries in Europe, with many contracts ending in early July. January is a secondary season to start employment.
Summer camps in Europe offer great opportunities for those looking for shorter commitments.
A typical English teacher will make enough to support himself/herself comfortably, but should not expect to save substantial sums.
Working in Central and South America: Offering a mind-boggling combination of spectacular natural beauty, diverse cultures and exciting cities, Latin America has emerged as one of the most popular destinations in the world for recently certified English teachers. Some of the more popular places to teach are San Jose, Costa Rica; Santiago, Chile; Buenos Aires, Argentina, and the great cities of Brazil like Rio de Janeiro and Sao Paulo. While salaries are not as high as they are in Asia or the Middle East, the low cost of living makes the region attractive from a financial perspective.
Working in the Middle East: Schools in Egypt, Jordan, United Arab Emirates, Kuwait, Saudi Arabia, and other Middle Eastern nations all seek certified English teachers. In many Arab nations, university classes are taught in English and the region's location at the crossroads of East and West has made cities like Dubai major hubs of commerce and leisure where English is the norm. In wealthy Gulf States in particular, most positions are offered to experienced teachers with bachelors' or masters' degrees in education, in addition to a TEFL / TESOL certification.
Those who qualify for such positions will enjoy some of the highest salaries in the field as pay can range from $ 2,500 - $ 6,000 a month, plus free housing and flights to and from the teacher's home country. Jobs are somewhat easier to come by for those with just a four-year degree (or even less) and a TEFL/TESOL Certification in Egypt, Morocco, Jordan, and Turkey, where the pay is considerably lower, but the cost of living is low and the opportunities for immersion in one the world's great regions for culture and history are innumerable.
Some points about teaching English in the Middle East:
The vast majority of positions in the Gulf Countries (Saudi Arabia, UAE, Kuwait, Qatar, Bahrain, and Oman) are obtained through interviews in advance.


Teachers should expect to adhere to local cultural norms, which can vary dramatically from what you may be used to in the West. Within the region, restrictions on personal freedoms like style of dress and the right to consume alcohol can vary widely from country to country, or even from region to region within a particular country.


The presence of large expatriate communities, where teachers can socialize with other westerners makes the transition for newcomers to the region much easier.
Take some time to consider your motivations for teaching.
When considering where you might go abroad, think about what really is important to you both on a personal level and a professional level, and remember that the more research you conduct on your own, the more likely you are to find a destination and teaching position that meets your needs and goals.
Research a variety of destinations and weigh the pros and cons.

Don't be afraid to consider countries or regions of the world that you may not have considered previously or that you know little about.

Is it important that you make enough money to save, or do you just need to earn enough to get by?

Do you want to live in a country with four seasons like Korea, Japan, and most countries in Europe, or do you prefer the tropical climes of Costa Rica, Vietnam or Thailand?

Do you want to live and work in a country where you can work on your Spanish or French, or are you interested in teaching in a country "off the beaten track" that remains untouched by mass tourism?
What types of classes will I be teaching, and who will my students be?
English students around the globe hail from a variety of educational backgrounds, ages and walks of life. Depending on where you teach and which school you work for, you may teach corporate executives from Fortune 500 corporations, clerks from the local hotel, or university students. You may find yourself tutoring local housewives, or possibly teaching children in public schools. Bear in mind that your International TEFL Academy certification course will provide you with the skills necessary to teach a wide array of students.
Adults:
Adult learners represent the largest segment of students that most English teachers work with when they go abroad to teach English. This is particularly the case in Europe and Latin America, where foreigners do not typically teach in public schools.

Types of Adult students:
Business professionals, corporate executives and employees– some companies will contract with a local language school to bring a teacher onsite to provide instruction to employees; others will send their employees to a class at the school.
Small business owners who conduct business with foreign firms in English, or who work extensively with English-speaking customers.
Those working in tourism and the hospitality industry.
University students looking to study abroad, who are conducting research in fields dominated by English or are looking to obtain employment in an English-speaking country.
IT and the Web- Anybody working in technology or looking to take full advantage of the Internet.
Entertainment - Those looking to enjoy English-language movies, books, music, television and other media.
Most adult English language learners work or attend school, so be prepared to teach classes in the late afternoon, evenings and possibly on weekends as well. Many adult learners also seek private lessons, which give teachers a great opportunity to earn additional income and work with students on a more personal level.
Asia is a booming market for those looking to teach children, where, unlike in Europe and Latin America, public schools are increasingly seeking native English teachers to provide high quality English language instruction. In addition, in countries like Korea, many parents enroll their children in language classes at private language institutes after school to supplement the instruction they receive in school. If you work with such students in a private language institute setting, expect to be giving most of your lessons in the late afternoon and early evening.
In Latin America and Europe where foreigners do not typically teach in public schools (where most young learners conduct their English studies) there are fewer opportunities, however it certainly still possible to work with younger learners. Many parents seek private lessons for their children to give them a head-start on their English proficiency or assist them in passing a college entrance exam in English known as the TOEFL. English language summer camps are another popular venue where language training is provided to younger learners in Europe, Latin America and Asia.
What sort of school will I teach in?
Private language schools:
As foreigners are not typically hired to teach children in public schools in most countries, the majority of opportunities for TEFL/TESOL graduates will be in private language schools. These are typically privately owned enterprises specializing in language training (usually English), and can range in size and scope from mom-and-pop businesses with a single classroom, to large multi-national chains of schools operating dozens of branches in multiple countries.
Large cities in Europe, Asia and Latin America typically host anywhere from 10-50 schools. Mega cities of Asia such as Tokyo, Seoul, Shanghai can boast 500 – 1,000 language schools! Some will specialize in areas such as business English or young learners, while others may offer general classes to students of all levels and abilities. Many classes taught in such venues focus on conversational English, which many students find difficult to master and which they need for professional reasons, but as a teacher you must be prepared to cover all aspects of the English language.
Schedules vary, but on average you will teach for 25 - 30 hours a week with 12-15 hours of prep work. A common shift is from 2 – 9 p.m. with some weekend work to accommodate students looking to study English after a standard work or school day. Class sizes vary, but typically range from 2 – 15 students.
Public schools:
In many Asian countries public school systems hire native English speakers to work in grade schools and junior high schools. Classes typically run from Monday through Friday, averaging 25 to 30 hours a week of classroom time, and 12 to 15 hours a week of lesson planning. Expect an average workday to begin at 8 a.m. and last until 4 p.m.
Private Tutoring Opportunities – Private lessons are in high demand in most locales around the world and offer great opportunities to earn extra income and to get to know students on a more personal level than is possible in a typical classroom setting.
Summer jobs: Summer camps in Europe and Asia offer four to six week summer teaching jobs in language camps for school aged children and adolescents. These opportunities are great for those looking for shorter stints overseas as well as those who enjoy working outdoors with children and teenagers.
Universities - Experienced TEFL / TESOL teachers with advanced degrees may find openings at the university level. These positions provide opportunities to work with advanced students and typically pay higher than positions in private language institutes or public schools.

Volunteer Positions - Non-governmental organizations, including charitable organizations and mission-based groups often sponsor TEFL / TESOL teachers to travel abroad to teach English.
How much money can I make?
Your income as an English teacher will depend on your position, qualifications and the country where you teach. Wages are typically, though not always, paid in local currency.
Request our country chart and country profiles on our website for more detailed information for particular countries.

Europe and Latin America - Foreign English teachers in these regions typically earn a wage that allows them to live comfortably in an apartment, purchase groceries, dine out, commute by public transportation and have some extra money to travel and pursue other interests. In both regions, private lessons are in high demand and provide excellent opportunities for teachers to earn additional income
Asia - English teachers typically save between 30%-50% of their salary, with savings ranging from $ 200-$ 300 a month in a country like Thailand to $ 1,000 or more a month in Korea after expenses.
Middle East – TEFL/TESOL graduates with extra experience and qualifications (typically a Masters degree and some professional background in education) will enjoy some of the highest salaries in the field as pay can range from $ 2,500 - $ 6,000 a month, plus free housing and flights to and from the teacher's home country. In less developed countries like Egypt, Jordan, Morocco and Turkey, foreign English teachers typically earn enough to support themselves comfortably, but should not expect to save much.
Extra Benefits:
Some countries provide national health insurance and paid vacation time. In other countries employers provide free accommodation and utilities to help teachers with living expenses. Another perk could include the reimbursement of airfare. Offers vary from one destination/country to another. Working with an International TEFL Academy advisor can assist you with researching your placement choices in advance to make an educated decision. It is of paramount importance to consider the cost of living in the country in which you seek to work.